Graduation
In June, 2007, Ian's class graduated from high school. The kids who were his age moved on to the next part of their lives. Because Ian was in Special Education and would not receive a regular diploma, he was allowed by law to continue in school for three more years. His picture was in the paper with the graduates in 2007, and the school wanted to know, "is he going to walk with his class?" But it seemed odd to walk with your class and "graduate" and then go back to high school the next fall. In my mind, that would make graduation kind of meaningless. Besides, we were building our new home, plus Ry and Morgan were getting married in July of 2007, so the timing was off for me. If we were going to do graduation, I wanted it to mean something. For all of us.
Ian will turn 21 years old in July, 2010, so he can no longer go to school. That three years has come and gone. He is what the school system calls "aging out." The hard part is that Ian does not understand what finishing school means. When he wakes in the morning, he says (in his own language) "go bus school." How were we to help him understand that he would NEVER go back to school again? That's not really possible, so we did the next best thing: We decided to Celebrate Ian and his accomplishments at school by having a big party at his house and then having him walk with the class of 2010 at graduation.
Epoch said she was willing to help him at the graduation ceremony, which made it all possible. I designed invitations to send to many of the people who had helped Ian and us along his school journey: teachers, therapists, service coordinators, case managers, school staff, home staff past and present, plus a few close friends. And, of course, our family. Here is the photograph I had on the front of the invitation. I felt like this invitation would not be complete without something from Ian's perspective. Ian's expression of gratitude. So I wrote this poem, for Ian.
Ian Goodman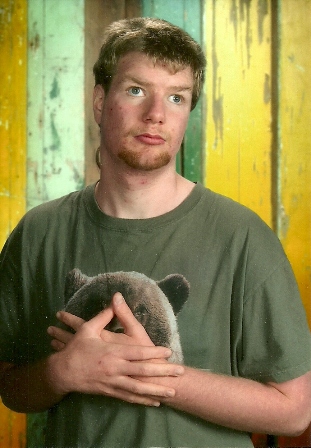 My School Journey
from Ian Christopher
to each of you
Itís been many a year since I set out to school
Down the road at the wonderful Dome.
Then I went far away to OSB
Until finally I got to come home
These last many years Iíve been right here in town
At the high school and then Lorna Byrne.
Iíve loved riding the bus and learning so much
You might say Iíve taken my turn.
School has been good and Iíve loved it a lot.
Itís given me so many things,
But now it is time for me to move on
And pursue my very own dreams.
I hope Iíll see you around our town.
This part of my journey must end.
You are the people who mean most to me
I call every one of you Friend.
"I'm Finished with That!"
Class of 2010