Ian Goodman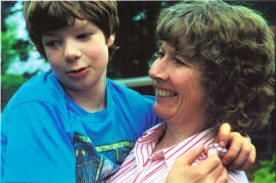 Born in the summer of 1989, Ian has a unique life story. When he was just 9 weeks old, he experienced a lack of oxygen one evening in bed. The exact reason for this was never determined, and Ian and his family moved forward, taking life one day at a time. It has been a good way to live. We are hoping to give you a glimpse into his life, through stories and photographs. His is truly an inspiring story.

In 1996, Ian began attending Oregon School for the Blind. He is pictured here with his teacher, Jana McFerron.
The Singing Man
A Christmas Story
Note: Ian was a 10 year old boy when I wrote the following story. He experienced a severe lack of oxygen to his brain as an infant, which affected every aspect of his life, including his ability to think, see, communicate, etc. "Sighted guide" is a technique which enables visually impaired people to move through space and involves holding on to a sighted (visual) "guide". The story begins ...
He was already sitting in front of the post office when we pulled into the parking lot. All I could see was his head and a large piece of plastic draped over his body. Who was this person, and why was he sitting there? Was he going to ask us for money or to sign a petition? I was already a bit nervous about taking Ian into the post office, and I didn't really need a distraction on my way in. I briefly considered coming back later, another day even, then decided to take my chances. We just needed to mail a small package and purchase some stamps. I prayed that the line would be short but knew that the chances of that on this December day were pretty slim. [To read full story, please click here.]
c. 12/99 by Mar Goodman
Graduation from school, June 1, 2010