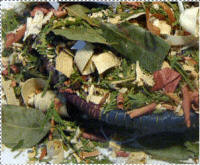 Potpourri

Bring the soothing scent of the Pacific Northwest forest into your home. Our hand-blended ingredients are organically grown or wild crafted and the fragrance is fresh and woodsy.

Tips for use:

**Add a scoop of our potpourri to boiling water and simmer on the stovetop to freshen your environment..
**Burn ceremonially or use as incense.
**Use as a great room freshener for the holidays or air freshener in your car.
**Add your own ingredients to our blend.
**Place potpourri into a handkerchief and tie with a ribbon to make a lovely, aromatic sachet

Ingredients:
Incense Cedar tips and shavings. Known as the Tree of Immortality, cedar is used to symbolize fertility, abundance, and spiritual strength.
Myrtlewood shavings. Myrtle is associated with joy, peace, tranquility, happiness, constancy, victory, and the feminine principle.
Redwood shavings. Redwood represents sacred wisdom and truth.
Bay Laurel leaves are associated with renewal, honor, courage, and immortality. They bring protection, energy, and joy.
Lavender flowers represent loyalty, undying love, tenderness, and kindness. Lavender's scent is said to protect and bring peace and healing.
Rosemary. A plant of fidelity, devotion, and everlasting love. They say that wherever rosemary grows well in a garden, a woman will be master of the house.

Price: $6.00 for a 2 oz bag

We do not add essential oils or preservatives. Our potpourri is shipped in biodegradable, clear, vegetable cellulose bags to avoid the smell of plastic. Store in a covered jar.
Sachets
Sweet dreams are made of this.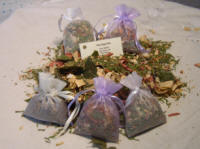 We also sell our potpourri in organza sachets. Put one under your pillow, in your linen closet, or with your lingerie. Can be used as a wedding or party accessory, or for a unique memento to give your guests. We can make specialized labels for any purpose and add them to your sachets.
Attention Lodges/Hotels: The sachet adds a touch of class to each room, and it is a stylish business card. Your guests will take it home and always remember you. Contact us for more information.